Awkward And Hilarious Family Vacation Photos
Cow-Abanga
These girls decided to take bull riding to the ultimate level and instead of riding on a mechanical one in some amusement park they chose to ride those cows through the great outdoors. Living the wild west to its fullest, now that is a real cowgirl.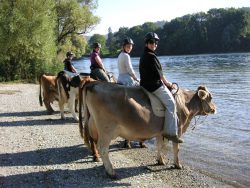 Awkward Family Photos
They can also make their own lattes along the way.