Awkward And Hilarious Family Vacation Photos
Horsing Around
This family is definitely enjoying the great American outdoors, they galloped all the way from home with little Seabiscuit for some quality family time. After grazing for a bit it was the time to take the family photo. We are glad they ended up sharing it online with us.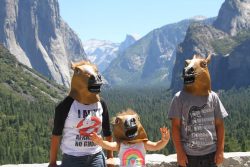 Awkward Family Photos
Well, I think that "Horseshoe Bend" could probably be the best location for their next family trip.